Diatone Mamba F722S Flight Controller & 4-in-1 30A ESC - 2pc Mini Stack
Manufacturer Description
Diatone's Mamba series gives racers an edge in competition. The latest F7 processing technology with rock-solid power from the ESC means you can focus on flying, not on the limits of your equipment, even in a 20x20 mini stack.
With a wide range of setup options and features, you can configure your stack however you'd like.
Check out the 30x30 version here.
Specifications
F722 Mini Flight Controller
MCU: 216MHz STM32F722RET6 32BIT
IMU: MPU6000
Firmware: BetaFlight
Target: MAMBA F722
Baro: No
OSD: BF OSD
Blackbox: 16M Flash Memory
Uarts: 6Set
ESC Protocol: Dshot 300 / 600 / 1200
ESC Telemetry: RX2
LED: Blue & Orange for FC Status, White 5V, Red 3.3V
WS2812 LED Control: BF Control
SmartAudio: Yes
RSSI: Yes
Buzz: Yes
Input: 2s - 6s LiPo (8.4V - 25V)
VTS Protection: Yes
BEC: 5V @ 2A (Max 3A)
30A ESC
Input Voltage: 2s - 6s LiPo (7.4V - 25V)
Continuous Current: 30A×4
Burst Current: 35A (10sec)
BEC: No
Protocol: Dshot 300 / 600 / 1200
Mounting: 20mm / M2
Supply: Panasonic High-Frequency 470uF / 35V
Full Stack
Mounting: 20mm / 20mm, Φ2
Dimensions: 30mm Long / 36.5mm Wide / 11mm Thick
Weight: 11g
Components
1x Mamba F722 Mini Flight Controller
1x Mamba 30A 4-in-1 ESC
1x Panasonic High-Frequency 470uF / 35V Capacitor
1x Protective Top Plate
1x XT60 Connector
2x 4-in-1 ESC Connector Cable
4x Spare Stack Bolts
12x O-Ring Dampeners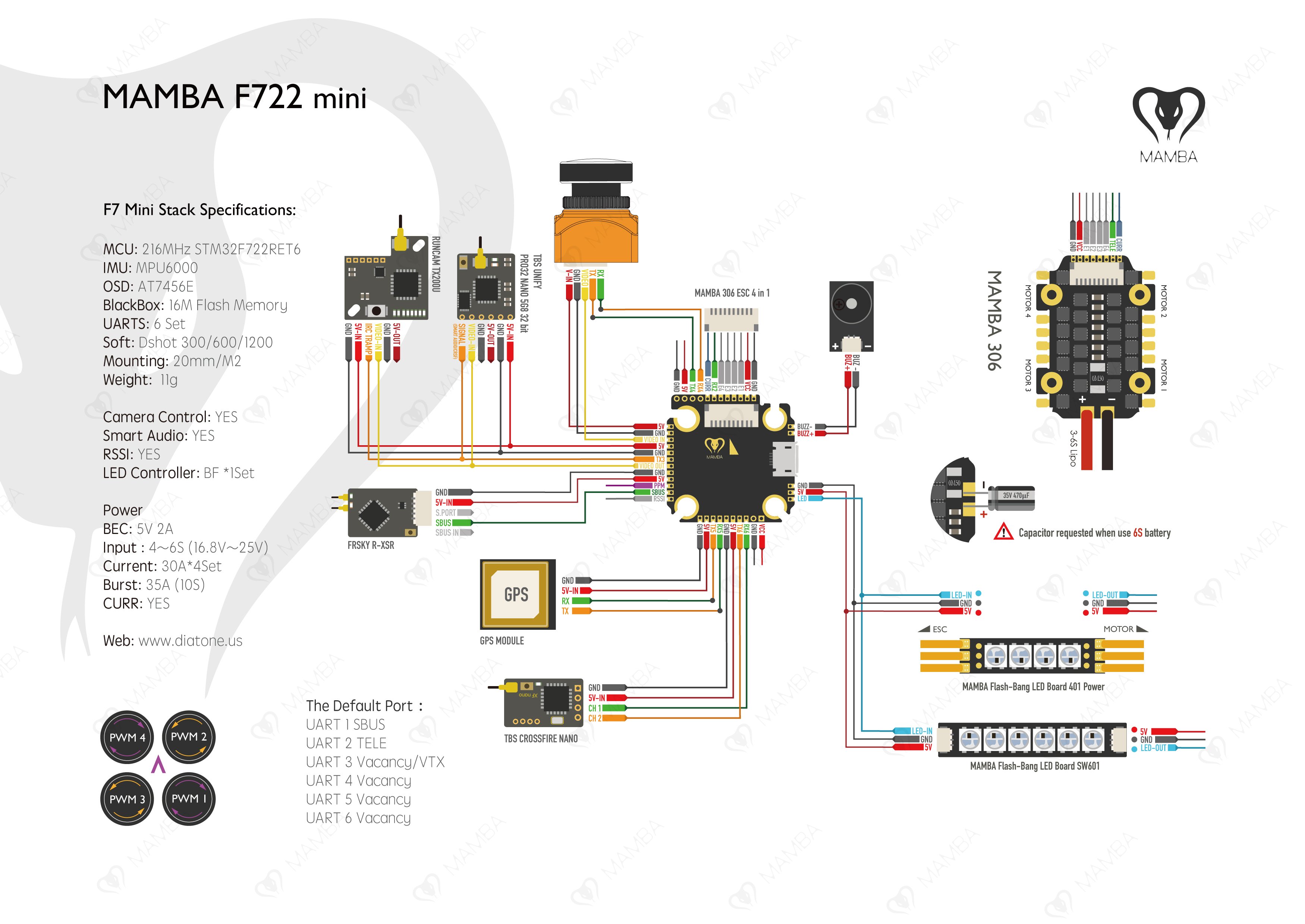 Note: The STM32F722 generates much heat; leave at least 5mm on both sides of the FC for air circulation.